There was a utility room on each floor of the college dormitory where, among other shared items, there was an ironing board."I'm just watching how you do that," replied Amy, somewhat in awe."What? This? I'm just pressing this because it's what I wear with my new suit. I have an interview tomorrow."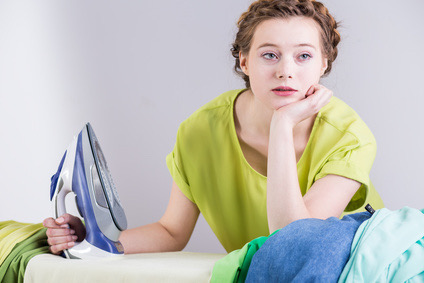 "But how do you know how to run the iron?" asked Amy. "I also wonder why you iron parts of the blouse in the order you do."
I could see she had no clue. She was seriously marveling at my skill, which I hadn't even considered a skill. It was just one of those things I did to have things the way I wanted them.
As I got to know Amy, she indicated that there were lots of things she didn't know how to do.  She often said, "I never had to do that." For instance, she sent her clothes out to be laundered even though there were washing machines and driers on a lower floor. 
As I got to know Amy, I stopped being jealous of her for not having to do the tasks I had to do, and started becoming aware of how much everyday stuff I knew how to do that she didn't. And how uncertain she felt.  And ashamed.  What was wrong with her that she couldn't do what others her age regarded as normal?
Maybe I'll say a word of apology to my mother for grumbling about "having to do so much work" growing up. I think I should thank her instead!
There is more help on the topic of shame in Life Beyond Shame: Rewriting the Rules by Connie Dawson (2016, Balboa Press).
There is more help about avoiding overindulgence in How Much is Too Much? Raising Likeable, Responsible, Respectful Children – From Toddlers To Teens – In An Age of Overindulgence (2014, DaCapo Press Lifelong Books).
All photos from Fotolia.