How many times have you heard your child scream, "I want it and I WANT IT NOW"? And since it is easier to give in than fight the same old battle, you fold.
How many times have you heard your child say, "All my friends are doing it. Why can't I?" And because you are tired and exhausted from work, you reluctantly say, "Well, OK."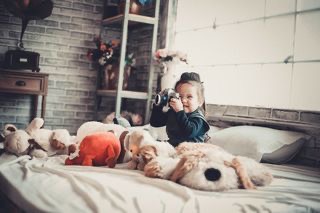 Source: Kha Ruxury/Pexels/CCO License
How many times have you told your children, "Put down those phones and go outside and play"? Instead, they ignored what you said and you let it slide.
It's no secret; we live in an overindulgent world! Too Much has become the New Normal. It's the first type of overindulgence our research identified. Too much of everything: Money, toys, clothes, games, sports, screen time, camps, phones, freedom, privileges, and more.
Consider the following as examples of Too Much:
How Can I Tell If My Overindulgence Pattern Is Too Much?
Read and answer the following questions honestly for each child. The more Yes answers, the greater the probability that your overindulgence pattern is Too Much!
The majority of the time…
I give my child all the clothes she/he wants.
I give my child all the toys he/she wants.
I allow my child lots of privileges.
I give my child things that she/he has not asked for.
I give my child more than he/she asks for.
My child has more privileges than other children his/her age.
I give my child lots of freedom.
I let my child take the lead and dominate family matters.
My child usually gets what she/he wants.
© 2014 by Jean Illsley Clarke, Connie Dawson, and David J. Bredehoft. Used here with permission.
What Are the Risks?
It appears that childhood overindulgence affects people well into adulthood. Almost three-quarters of overindulged subjects reported having difficulty knowing what is enough, or what is normal as adults. Participants' written comments reveal their pain: "I have extreme difficulty making decisions." "I need praise and material rewards to feel worthy." "I don't have to grow up because other people will take care of me." "I feel like I need lots of things to feel good about myself." "I'm unlovable." "I have to buy gifts to be loved." "I constantly need outside affirmation from my friends." 
When asked what feelings occurred when they were overindulged they said they had trouble "knowing what is enough". They had the most difficulty in the areas of food, followed by spending money and buying gifts, parenting/child rearing, feelings of what's normal, conflict with interpersonal boundaries and relationships, decision making, and excessive activities such as working, going to school, exercising, playing and having fun. And if they were overindulged as a child they were much more likely to continue the cycle by overindulging their own children.
I Know I Have Overindulged My Children: What Do I Do?
As a parent I know you are concerned and do not want to overindulge your children; however, you may not know what to do instead. You may not know who to ask. Here are a few "rock solid" suggestions to help you avoid overindulging your children and avoid the damaging effects of childhood overindulgence.
Read a good article on the subject. 5 Tips for Parents to Avoid the Damaging Effects of Overindulgence — In this article, Jean Illsley Clarke discusses the concept of overindulgence, offering five tips on how to recognize it and what to do about it.
Read a good book on the subject. The Center for Parenting Education is a good resource where parents can find books on this and many other helpful parenting topics. How Much is Too Much? is also an excellent resource.
Take a free online course to learn more. Parenting in the Age of Overindulgence is a free online course offered by The University of Minnesota Extension. This course is an exploration of overindulgence and how you can avoid it with your children. The course takes about an hour to complete.
When in doubt ask for help:
Join a support group. 
Find a family life coach. Sometimes you need more than a friend's advice. A family life coach can help you.
Find a therapist. Sometimes you need expert help to work through longstanding patterns of behavior. Psychology Today has an online link to help you find a therapist near you.
My next post will discuss the second type of childhood overindulgence: Overnurture.
References
Bredehoft, D. J., Mennicke, S. A., Potter, A. M., & Clarke, J. I. (1998). Perceptions attributed by adults to parental overindulgence during childhood. Journal of Family and Consumer Sciences Education, 16(2), 3-17.
Clarke, J. I., Bredehoft, D. J., & Dawson, C. (Summer, 2017).  Developmental neglect - An ACE risk factor. National Council on Family Relations Network, 29(3), 17-19.
Clarke, J. I., Dawson, C., & Bredehoft, D. J. (2014). Appendix A: Parental overindulgence assessment tool. In Clarke, J. I., Bredehoft, D. J., & Dawson, C., How much is too much? Raising likeable, responsible, respectful children –from toddlers to teens- in an age of overindulgence (pp. 301-302). New York, Da Capo Press.
Do all things with Love, Grace, and Gratitude
© 2019 David J. Bredehoft